Eduroam at CAMK
What is eduroam
eduroam (education roaming) is a secured WiFi network service that allows students, faculty and staff to use their home institution's WiFi credentials to access WiFi network services, when visiting other eduroam participating institutions—without having to set up a guest account.
Eduroam accounts at CAMK
CAMK offers eduroam accounts to its employees and students.
You can ask for eduroam account at admprog@camk.edu.com.pl
Connecting to eduroam
Eduroam requires wifi with WPA-Enterprise. Most modern system have them already installed.
The eduroam address is in the form: your-login@eduroam.camk.edu.pl
Here is an example screenshot: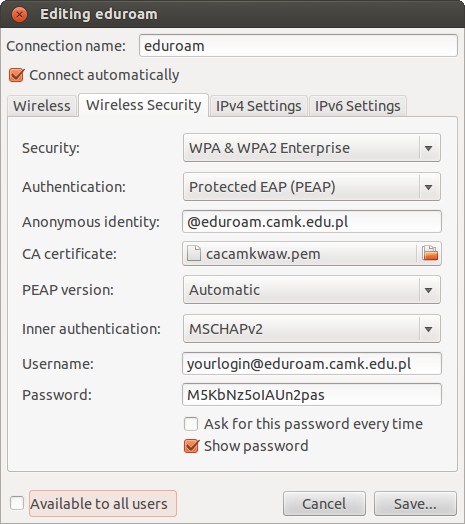 Parameters
The authentication should to set to PEAP (Protected EAP) with a anonymous identity set to @eduroam.camk.edu.pl. Inner authentication should be set to MSChap version 2. You will also need a certificate. While it is theoretically possible to run without certificate we strongly recommend against it. You can take your copy of certificate here.
You might to choose using cat.eduroam.org. After you choose the installer, please select the Polish name of the organization, usually typing "Koper…" is enough.